HORSHAM & DISTRICT RIDING CLUB
1967-2017: A Golden Jubilee Retrospective by Daphne Poupart
As a founder member of Horsham & District Riding Club I have been asked to write something about the Club's formation and what went on in its early years. So, this article is not an HDRC 'Jilly Cooper' you'll be most disappointed to learn! Just a simple retrospective for the records.
I apologise for the length but I just couldn't fit 50 years into a couple of A4 pages. I hope you find it of interest - and manage to stay awake!
In 1963 I was a newly married young woman living in Coulsdon when I was invited to join the founding committee of Coulsdon & District Riding Club (now Chipstead RC). At that time I worked in London as Assistant to the Editor of Riding magazine, a monthly publication owned by Country Life. I worked for several highly respected editors/authors in the horse world including Reggie Summerhays, Phyllis Hinton and Elwyn Hartley -Edwards. I was fortunate to be able to cover the big London shows including the RIHS at White City & Wembley, The Horse of the Year Show at Harringay & Wembley, Royal Windsor and Richmond Royal (the latter became part of The South of England). In 1961 I attended the Press Open Day of The All England Show Jumping Course at Hickstead and remember standing on top of the just revealed Derby Bank beside Pamela Macgregor- Morris from Horse & Hound and saying, incredulously, "No horse will ever jump safely off of this". Ah, the ignorance of youth! Many years later Riding was sold to a new publisher and eventually took on a new guise as Rider, the official journal of the British Riding Clubs movement.
Keith and I moved to Horsham in 1967 and I was very disappointed to find that although there was a flourishing local branch of the Pony Club, there was no riding club within hacking distance. Back then few of us "weekend riders" (as we were rather disparagingly called) had transport. So I contacted the BHS and was informed that a lady living in Faygate had made a similar enquiry the previous year. They suggested I contact her...and perhaps we could start our own riding club?!
Horsham & District Riding Club was formed in the autumn of 1967 by a small group of riding and driving enthusiasts sitting round Lynn Heydon's kitchen table at Manns Farm. Chairman was Mr A.G.Greenfield from Russ Hill; Vice Chairman Mrs K Yates (Faygate); Treasurer Mrs D. Barlow (Colgate); Secretary Miss Jane Dane (Mrs Warrender) from Rusper; Publicity & Newsletter Mrs D Poupart (Horsham), Committee: Mrs L Heydon (Faygate), Miss W Alexander (Faygate), Miss R Kirkby and Miss R Yates (Faygate) . The committee was joined soon after by Mrs Carol Venner (Colgate) who would later become Chairman and Show Organiser, and the very efficient Carole Wood who at various times would take on the roles of Acting Secretary, Treasurer and Chairman.
Membership was still small when we achieved affiliation to the BHS in 1968. Committee minutes stated "Members should be aged 17 & upwards. Subscriptions to be £1 &10 shillings with a membership fee of 10 shillings. The committee decided that meetings should be held in Horsham so as not to give the impression of it being the Faygate Riding Club. Horsham is considered the best central base for the current members and a room was suggested at The Queen's Head." The first AGM was indeed held at The Queens Head when 15 members attended.
In 1972 a Junior section was formed for 14-16 year olds. The subscription was £1+ 25p entry fee. The Junior age group was changed in 2013 to 12-17 years. The subscription changed too!
I took on the task of producing the newsletter. No computer or photocopier back then. I typed on an ancient black Imperial machine using carbon paper to make copies. Only 4 or 5 readable ones could be produced at a time, so that meant re-typing the whole thing using more carbon paper.
Consequently the newsletter was rather short on info! What joy when I acquired an electric type-writer and a secondhand duplicator - a bit messy to use but it did the job. I was then able to print the schedules which I still do to this day but now I use sophisticated (and clean!) equipment.
Presidents
Lady Gilbey became the Club's first President in 1969. She bred lovely Welsh riding ponies, prefix Culross. In 1976 she was followed by Miss Nancy Price who presided for 21 years. Before WW2 Miss Price had run a successful riding school at Blackheath. From her home near Plummers Plain she organised small shows & gymkhanas and, on summer evenings, novice show jumping for the Riding Club culminating with the ever higher 'Chase-Me-Charlie'. You seldom see that today. Health & Safety? A lot of us hacked to these shows. I rode with a battery stirrup light in case things ran late. No hi viz then, but not so much traffic either.
On Miss Price's retirement in 1997 Carol Venner and myself were honoured to be appointed Joint Presidents. Carol moved to Wiltshire some years ago and retired from the Presidency, since when I have been your President and Jane Warrender Vice President. However after 20 years I now feel the time has come to pass the baton to another member, so I will be retiring at the end of our Golden Jubilee Year. I am really proud to be have been part of the Club from its inception.
HDRC Chairmen
A.G. Greenfield 1967; Mrs Yates 1968 -69; Mrs Carol Venner 1970-74; Mr B Bradley 1974-75; David Christian 1975-79; Donald Kear 1979-87 with Carole Wood covering as Acting Chairman for a time; Fred Harries 1988-96; Donald Kear 1997 to the present day.
HDRC Treasurers:
Mrs Diana Barlow 1967; Miss R Yates 1968; Michael Venner 1969-70 & Carole Wood; Jane Warrender 1970-1991; Caroline Daybell 1991/2; Kevin & Jenny Kimber 1992; Jenny Nolan (formerly Kimber) 1992-1995; Carol Porter 1995 to the present day.
HDRC Auditor:
Jenny Nolan 1998 to the present day.
HDRC Secretaries:
Jane Warrender 1967-1970 & jointly with Carole Wood 1971-74; Stephanie McInnes & Helen Davies 1974-75; Helen Davies 1975-2005; Caroline Exley & Teresa Lavender 2005 to the present day.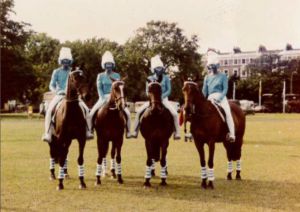 HDRC's first attempt at organsing a ridden show took place on Major Calvert's land at Faygate, a joint venture with Faygate Village Hall Committee. We organised the gymkhana classes and clear round jumping, and a small profit was made. (The records state that by 1972 we could afford to present double-row rosettes!) The Club's first stand-alone Show took place at Winterpick Farm at Plummers Plain, by kind permission of Mr John Christian - a generous supporter of the Club whose son David would later become our Chairman. Classes were Turnout, Handy Horse/Pony, Novice and Advanced Jumping, Gamblers Stakes and Gymkhana. Entry fee was 2/6d and late entry cost one shilling extra. The Show Secretary Miss Suzanne Cox (Mrs Skillen) presented a trophy in memory of her very successful champion show jumping pony Coco. This trophy is still awarded annually to the winner of our Open Jumping Class. In-hand classes were introduced in 1971, and in 1976 our Show broke new ground by making a profit of £100!
Hunter Trials
The early Hunter Trials were mostly for club members and friends. The first was held in May 1969 on land at Rusper owned by the Cox family. Secretary was Jane Dane. Instruction took place in the morning, followed by Novice and Advanced classes in the afternoon. The Instruction cost 2/6d, as did the entry fee. A few of us fell off.
One Day Event/Horse Trials
The earliest record of a ODE (members only) was in 1969, judged by Angela Martin-Bird. It was suggested the Club run an Open event, but there were concerns over whether sufficient numbers would compete to make it worthwhile and even whether we could muster enough helpers to run it.
HDRC was reported "to have arrived" in 1972 as the membership had grown to 70 adults & 16 juniors! Our Area competition results were good but we were still unable to field a One Day Event team. This was mainly due to the difficulty in finding suitable cross country practice sites to gain experience, so the Club continued to concentrate on Combined Training competitions. In 1977 HDRC member & BHS instructor Sheila Gardiner organised successful Area Horse Trials at Burdocks, Wisborough Green. However, our break- through came In 1978 when Donald Kear joined the Riding Club. He agreed to give group instruction to members at £1.50 each (min. group of 4)! Donald then organised our Open ODE at Sedgwick the following year....thereby sowing the seed for the Club's future Horse Trials success.
Dressage
Many dressage competitions were organised in the early years, both Closed and Open. The friendly and low key Novicey Dressages organised by Diana Webster at Sedgwick were very popular, especially when she introduced the Walk & Trot. The Club is indebted to the late Fred Harries for allowing us the use of the indoor school at Sedgwick and to Annette Harries for her excellent instruction over a number of years. This without a doubt helped provide the grounding for our future success. Another very special dressage highlight of yester-year was the pride we felt at being able to compete at Goodwood, when it was Britain's premier dressage venue.
See "Trend Setting" below for more Dressage highlights
The Highs
The amazing improvement in the standard of riding over the 50 years, thanks to excellent and affordable instruction we have been fortunate to receive from 'our own' qualified members. These include Donald of course for all disciplines, and 'home grown' Robbie Carpenter who started his successful dressage career at the age of 8, doing his first ever test at HDRC's Christmas Show on his pony Snowy. Huge thanks to them for imparting their knowledge, and long may this continue.
The Club has had many notable successes over the years. These include: Pat Tucker riding Chestnuts Mink to win the Trent Park Dressage to Music Championships 1988 - the very first National Championship success for HDRC in 21 years! Also, winning The Frank Weller Memorial Trophy for Riding Clubs Show Jumping Team of Three at the 1999 Royal International Horse Show against 110 other teams, when all 3 of our members jumped clear over 3 rounds. Ten years later in 2009 HDRC missed out on winning this trophy again by the narrowest of margins - by just 3 seconds! And who could forget the amazing hat-trick in 2006 when HDRC returned home victorious from the Riding Clubs National Championships at Lincoln having won THREE team events - the Show Jumping, the Equitation Jumping, and the Novice Dressage Championship....
fantastic. And victory at the 2010 Riding Clubs Horse Trials Championships at Offchurch when our Novice Team won the two-day event and Marilyn Turner was individual 1st.
Helen Millichamp was awarded the prestigious title of British Riding Clubs Senior Rider of the Year following her success on Ark Weld at the 2008 National Championships where they were 3rd in the Intermediate 3 -day event. The award was based on the Riding Test and Style Jumping. Helen showed her appreciation for being given this opportunity by joining the Committee, and continues to pass on her valuable experience to other members.
The Jennings sisters both represented Great Britain in 1995, Laura being a member of the silver medal Young Rider Team and finishing best British in 4th place in Germany, and Lucy chosen as an Individual in the Senior European Championships in Italy. And to cap that... Lucy & Diamond Pedlar were chosen as Olympic Team Reserves for the Atlanta Olympics 1996.
Shelly Dixon & Elkra Boy were short-listed to represent GB in Hungary with the CIC 2* European Team (formally known as the Rural Riders) in 2009. Initially named as reserve, they gained their place when one horse went lame. GB topped the leader board at the end of the dressage. The cross country was run in humid temperatures of 34c but the horses coped well and all passed the trot up next day to compete in the show jumping. One fence too many saw them drop from Gold to Bronze medal position with only 1.25 penalties separating all three medal positions! But what a superb achievement.
In 2007 our Chairman Donald was appointed British Riding Clubs Vice Chairman - in addition to being Chairman of the BRC Training Committee, a Trustee of the BHS, and serving on the West Sussex County Committee. Donald later went on to complete a second term as a BHS Trustee.
The STABILITY for which our Club is renowned is due in no small measure to efficiency and long service provided by our hard- working officers and committee members. Donald has had two stints as chairman, for a total of 30 years. Marilyn Turner has been a committee member for 33 years, Carol Porter for 27 years, Teresa Lavender for 18 years, Ros Head for 14 years, Maxine Gayler for 13 years, Caroline Exley for 12 years, Helen Millichamp for 9 years, AJ for 5 years...and so on. Long may this stability continue. It is an amazing record of team -work and dedication to the Club, and every single one of us has benefited from their efforts. THANK YOU TEAM.
The Very Lows
(Far too many sadly)
The death of committee member Margaret Cantello in 1976, from a fall whilst riding on the road. Donald's horrible fall at Ardingly Horse Trials that put him out of action for a time in the 1980's. The death in 2005 of our club's Secretary of 30 years, Helen Davies BHSI., following a fall whilst schooling her horse indoors, and despite wearing an up to date British Standards hat.
And the cruel life-changing accident suffered by Carol Porter whilst riding cross country during an Area Team Event at Eastlands in 1994.
Triumph over Adversity
Carol returned home from a long stay in hospital to a Welcome Home Party & Revue at Warnham Village Hall in January 1995, organised and staged by members of the club. Carol attempted to ride again but found it too difficult, so instead she turned her hand to driving ponies...and what a terrific success she made of it, winning 2 Silver medals at her first attempt at the World Champion-ships for disabled drivers in Austria driving Arthur, and in 2003 winning a 3rd silver medal in Edinburgh, this time driving a pair. All this in addition to working her socks off helping others in her duel roles as Secretary of the RDA Happy Landings Driving Group and of the West Sussex BHS. What an amazing lady, and we never forget how lucky WE are to have you Carol.
What has changed most noticeably over the years is the impressive rise in the standard of riding and quality of horse. The amount the Club spends on Teams has risen accordingly. The distance travelled by team members, chef d'equipes and supporters has increased in line with the ever-growing number of qualifying competitions. Schooling is more intense and to a higher level, especially in dressage. Plus the increased dependancy on surfaces.
GETTING BIGGER The Rule Book - my, has it grown! I still have a copy of 1976 Riding Clubs
Rules for All Official Competitions. It is miniscule compared with today's heavy tome.
GETTING SMALLER On the down side, as our team costs have risen so the paid membership
has fallen. It is interesting to note the following from the Minutes of the AGM, November 1997: "At close of year 343 members were recorded, we are one of the largest clubs." This is the highest membership our Club achieved. In 1998 the membership was 334, 319 in 1999, 316 in 2000, a noticeable drop to 240 in 2001, and a smaller yearly decline to where we are today, now stabilised at around 180. Falling membership is a national trend throughout the BRC movement.
Trophies
The club owns an impressive collection of Trophies (in excess of 80) and valued at goodness know what. Those who win them each year probably give little thought to the names of people, horses or places engraved on them. But all those names have a story to tell and are part of the Club's history. Our oldest trophies are awarded at the Open Show and were given to us over 45 years ago. These include The Horsham Fencing Shield for show jumping. And for showing: The Rodanieh Trophy presented by Mr & Mrs John Soanes; The Inca Trophy (Mr & Mrs Michael Venner) and The Surtees Salver (Mr & Mrs Frank Warrender).
Here I must mention our unsung heroine Jenny Nolan who has been responsible for the Open Show Trophies for 22 years. There is a lot of work involved in keeping track of this large number and making sure they are returned each year and in good condition. And then of course there is the matter of storage. On Show day they look magnificent, but sadly not all winners treat them with respect, so Jenny needs to keep her Marigolds and the silver cloth handy!
HDRCs oldest continuous sponsor is feed merchant Powells of Coolham. They have advertised with us since 1970 and first sponsored a class in 1977, but for the past 20 years owner David Chandler has sponsored a whole ring at the Open Show. So in this Golden Jubilee year, the Club will present a Powells of Coolham Trophy in appreciation of his generous support over the years. The Open Show is the oldest of our 'big three' annual events and I have served on its Committee for many years, so I am happy to present a 'Golden Jubilee Trophy' to mark this special occasion.
Trend Setting
Yes the Club has done some of this too. We first held Dressage to Music & In Costume back in the late 1970s at Sedgwick. With Donald's encouragement we were a very early Club to hold these. And what a joy they have been ever since. Also of note were the Affiliated Dressage Festivals held between 1984 and 2001. Organisers were Donald, Anne Luxford, Annette Harries and Carol Porter with their respective committees. These were held at Sedgwick, Belmoredean and lastly at Hickstead, and drew entries from far and wide.
The social side was very important in the early years. BBQ/Barn Dances were organised by Jane at Rusper, Broadbridge Heath, Abinger Common, Slinfold, Horsham and Warnham, and the most memorable ones had a steel band. Up to the mid 1970's we had an annual Dinner Dance, some of which where held at The George in Crawley. They were smart dress occasions with an invited speaker and a band. All these social events were very enjoyable, but times change...as the next item shows.
The Christmas Revues held between 1980 and 1984 were hilarious. Many members, including your Chairman and yours truly, were involved in all sorts of cheeky 'carryings on' on stage at Colgate Village Hall. Not just Jilly Cooper... more like Tommy Cooper! And as well as proving to be amazingly versatile thespians, some of our members showed their literary prowess by penning the verses I have attached for your enjoyment.
The club's initial and tentative stab at going on-line was in 2001 when Jamie Greenwood set up a basic website for us. This was superseded in 2006 when Miranda Andrews took over maintaining the site. However it still wasn't sophisticated enough for our fast changing needs. So in 2012 the site had a complete professional re-vamp and we finally got what we needed. Grateful thanks to Maxine Gayler for the amount of time and effort she puts in to keep it up to date.
And Finally....
This research has necessitated trawling through years of minutes, old newsletters and my even older memory, so almost certainly there will be omissions on this journey (and probably some slip-ups as well for which I apologise if you spot one). There have been so many people who have helped the Club throughout the 50 years, not just members but their partners, family and friends who have contributed to its success. I can't remember all of them of course, but what I CAN do, and as a tribute to them, is to list below ALL the Committee Members 1967-2017 in appreciation of their efforts over the years.
There is a special pride and satisfaction to be gained from serving on the committee. When asked to consider it some members reply "I can't because...I work / the children / ageing parents...etc. Well, these things applied to those early members too but they still managed to fit it in and get the Club up and running. So please do give it a second thought before you dismiss the idea - you would be surprised how rewarding it can be.
There have been lots of laughs and sadnesses through the years but I am proud to have been part of it from the start. I would like to take this opportunity to thank my very tolerant husband Keith for doing so much heavy lifting for the Club for such a long time; believe me there is little he doesn't know about our jumps (making, painting, repairing, erecting, dismantling, transporting, stacking and housing them over the years)! He has certainly done his bit for HDRC.
So thank you Horsham & District Riding Club for a wonderful half century. Good Luck and Best Wishes for success during the next fifty years. But please do remember - rosettes are not the be all and end all.....IT'S MORE ABOUT ENJOYING YOUR RIDING, GOOD TEAM SPIRIT, AND
HAVING LOTS OF FUN EVERYONE!
DAPHNE